Clitoral Sucking Dildo Vibrator G Spot 9 Vibration & Suction Modes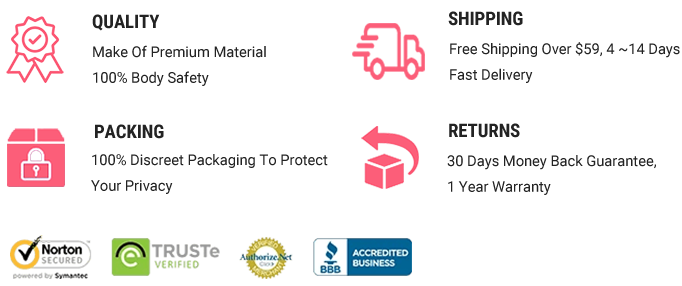 Revolutionary Suction and Pulsing Technology!
Perfectly designed to Stimulate G Spot and Clitoris. The suction part doesn't only suck, it has suction and pulsing ability to stimulate and provide enhancing sensations. The other part is the realistic vibrating dildo which is shaped and sized perfectly to hit G Spot.
Clitoral sucking vibrator comes with 9 different vibrations and suction modes.
The power button controls the "Turning ON / OFF" and "Suction Modes" while the other button controls the "Vibration Modes". Now the orgasms are just a button push away from you.
Features
Dual Stimulation - The vibrator has a realistic penis vibrating head and a small hole at another side, is designed to perform more than 1 function at one time. Sucking clitoris at one end and another end vibrates at the G spot doubling your pleasure. Also the penis head does not easily slide out, allowing you to enjoy the greatest orgasm pleasure.
9 Vibration & 9 Sucking Modes - The massager is controlled by different buttons and can vibrate together or individually. You can try a combination of multiple vibration modes, which can help you reach a new level of climax. And the vibrator's motor will provide you with the most powerful vibration experience to make you scream for your big O.
High-Quality Silicone & Super Quiet - Made of human-safe soft silicone, it can be operated flexibly and ensures that you can enjoy safe and comfortable masturbation. Plays very silently and keeps your privacy to you only, no one can hear it in the next room.
Remote Control & Portable - Keep your vibrator to yourself for heavenly solo arousal, or hand the remote to your partner for a transformative foreplay experience that begins before they even enter the room. It's portable and you can take it anywhere you want.
Waterproof & USB Magnetic Rechargeable - The clitoral vibrator has a waterproof design that allows you to explore the fun out of your bedroom to enjoy your pleasurable moments while taking bath or relaxing in the tub. Fits various USB charging devices, and can be provided about 60 minutes of pure pleasure after a full charge.
Multi-Talented 2 in 1 Gadget
The clitoral sucking vibrator is designed to give multiple orgasms. Sucking part has 9 different suction modes from lighter to most intense. The realistic vibrating dildo has 9 different vibration modes. Both of these features blend together bringing you the perfect orgasms you never had before!!!
100 % Waterproof Seamless Design
Clitoral sucking vibrator is 100% waterproof seamless design. Take the fun out of your bedroom and enjoy playing with it while taking shower and relaxing in the tub. No matter the occasion is wet, slippery or dry, the clitoral sucking vibrator is always ready to please you.
Compact Design
Due to its small size, it's always ready to travel with you. Very handy and easy to be stored in your drawer, bag or any tiny container.
Magnetic USB Rechargeable Technology
Very easy and convenient to recharge. Compatible with all USB charging devices. 1.5 hours of charge provides 2 hours of pleasure!
Whisper Quiet
The clitoral sucking vibrator always remains silent and is very quiet. Nobody can hear it next room.
Size
 Payment Methods: PayPal, Credit Card Or Debit Card.
If you have a PayPal account, you can use paypal to pay directly.If you don't have a PayPal account, you can still pay with credit card or debit card through PayPal. PayPal accepts all types of credit card brands, like Visa, Mastercard, Discover and American Express.
Here are the payment steps:
1. Click "Complete order" button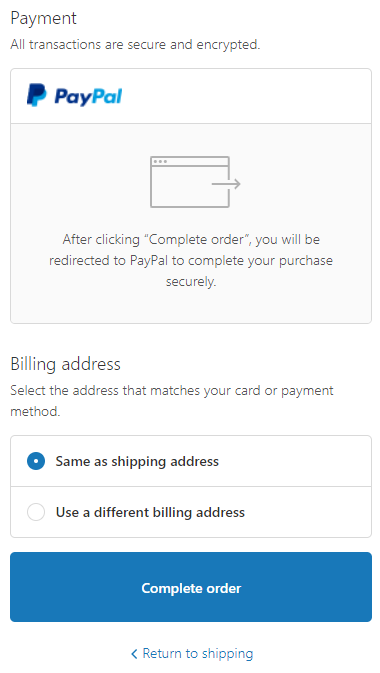 2. Click "Pay with Credit or Debit Card" button
3. Fill in the card number information
4. Click "Continue as Guest"
Shipping
Free Shipping Over $59
4 ~14 days fast delivery ( USA, Canada, Australia, The United Kingdom, France, Germany, Spain, Italy )
5 ~16 days delivery for other European countries
7~ 20 days delivery for the rest of the countries
100% discreet packaging (There would be a normal box outside our packaging.Neither company name nor product name would be seen on the box, So, you don't need to worry)
Due to the impact of the COVID-19, the shipping may be delayed. However,we will do our best efforts to deliver the package safely and quickly.If you have any questions during this period, please contact us at info@yosposs.com.
Returns & Warranty:
30-day no risk money-back guarantee
12 months warranty
MORE DETAILS >>