9.5 Inch Realistic Vibrating Rabbit Clit Thrusting Dildo 5*3*5 Modes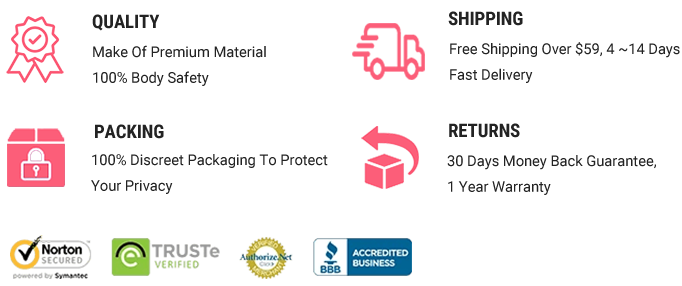 Quadruple Functions, Quadruple The Joy.
* It's a realistic dildo with life-like material and design
You can use it as a normal dildo that can heat to human body temperature, it will be more like the real thing.
* It's an automatic thrusting dildo
Stick it to the wall, put your hands down, and enjoy the service by this sexy man.
* It's a vibrator
The head can vibrate also, you can turn on the vibration only, just enjoy it as a vibrator.
* The lovely rabbit can also vibrate
Let the rabbit vibrate your clitoris, go for some foreplay before the fabulous sex, or let the thrusting and vibration work together to spicy things up.
Features

Unique Swirl Vibration - Stout glans, realistic meridians and skin folds, and hardness similar to that of a male erection. Unlike common vibrators, it uses a unique vortex vibration mode. Just like a wave, not only stimulating your G-Spot, but touching every sensitive point on the vaginal wall, giving you a strong vaginal orgasm experience.
Special Design - Unlike the common dildo, our dildo has a cute little rabbit attached to the back of the testicle. When you experience the thrill of riding the waves, the little rabbit will also dance with the waves. The sharp and soft ears will lick your clitoris with high frequency vibration, bringing you clitoris, G-spot, vagina triple stimulations and a deeper orgasm experience.
Multiple Modes - 5 head vibration modes + 3 thrusting intensities+ 5 rabbit vibration frequencies, switch between them, you will get as many as 75 different combinations. From gentle to wild, from slow to fast, from weak to strong, so it's good for beginners too, you can exercise from the lower level, and slowly rise up the speed, and feel the fabulous non-stop moaning climax.
Remote Control Individually - There are three buttons on the remote control to control the corresponding functions for the dildo, you can have the vibe alone, thrust alone, heat alone, rabbit vibration alone, or all come together. How to play, depends on you. Enjoy the lazy sex, put your hands down, have superior service by the real man.
Strong Suction and Safe Material - Big and strong suction cup base, will stick to any smooth surface, it can hold firmly without problem even when the thrusting action is up to the max. You can have great fun in the bathroom, living room, or bedroom. Very flesh-like, the details of glans, veins, balls will give it a realistic feel and close to real acting, the whole toy is covered by high-quality silicone, skin-surfaced, comfy and sexy to touch, healthy to use.
100% Waterproof and USB Rechargeable - 100% waterproof, easy to clean, and you can enjoy wet fun with no worry. Use the upgraded magnetic charging, convenient to charge anytime anywhere.
Multiple action modes, Explore Your Own Way to Play with It
Head can vibrate in 5 different frequencies, thrust at 3 different speeds, and rabbit can vibe in 5 different modes. You can choose the right rhythm for yourself, make it better serve you.
The four functions can be controlled individually. You can have the heating alone, head vibe alone, thrust alone, or rabbit vibe alone or vibe, heating AND thrusting All Together!
3 Powerful Motors
Simultaneously stimulate your clitoris, G point, vagina, giving you a stronger sense of pleasure. Built-in 3 powerful motors, and provides remote control, making it easier for you to switch modes and find your favorite.
Convenient USB Charging
It uses the updated magnet charging, no need to plug in the product. Just get the charging cable close to the charging point, it will connect automatically. Really convenient to charge it and bring more fun.
Enjoy Some Fun in Shower!
Whole product is covered by silicone, and uses the updated magnet charging, so there is no charging hole, and you don't need to worry about water coming into the product when you clean it.
Easy to wipe off and clean with soap and water, go for wet fun.
Strong Suction Cup
The dildo has a powerful suction cup, you can stick the dildo on any smooth and dry surface. Better to use on smooth glass, or wall without dust, so that even when you turn up the action to the max, it can still stick firmly. Your hands can be truly liberated, so you can find more different ways to play.
Perfect Size
The insertable length for it is 6.3 to 7.5 inches. Diameter is 1.6 inches. Whether beginners or advanced can handle it. Recommend to use with lube, and you will feel much more comfortable and enjoyable.
Bring you a constant various experience of climax!
 Payment Methods: PayPal, Credit Card Or Debit Card.
If you have a PayPal account, you can use paypal to pay directly.If you don't have a PayPal account, you can still pay with credit card or debit card through PayPal. PayPal accepts all types of credit card brands, like Visa, Mastercard, Discover and American Express.
Here are the payment steps:
1. Click "Complete order" button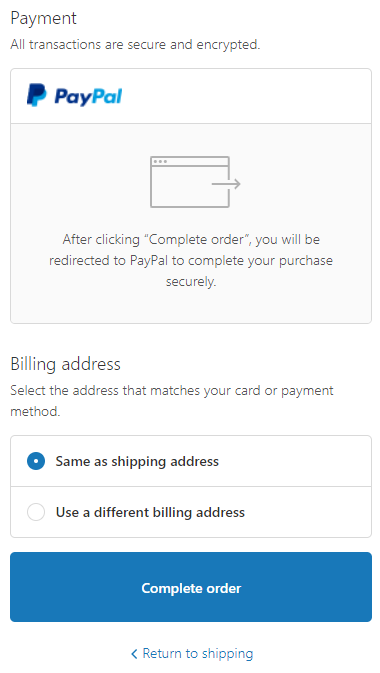 2. Click "Pay with Credit or Debit Card" button
3. Fill in the card number information
4. Click "Continue as Guest"
Shipping
Free Shipping Over $59
4 ~14 days fast delivery ( USA, Canada, Australia, The United Kingdom, France, Germany, Spain, Italy )
5 ~16 days delivery for other European countries
7~ 20 days delivery for the rest of the countries
100% discreet packaging (There would be a normal box outside our packaging.Neither company name nor product name would be seen on the box, So, you don't need to worry)
Due to the impact of the COVID-19, the shipping may be delayed. However,we will do our best efforts to deliver the package safely and quickly.If you have any questions during this period, please contact us at info@yosposs.com.
Returns & Warranty:
30-day no risk money-back guarantee
12 months warranty
MORE DETAILS >>