10 Patterns Rose Clitoral Sucking Vibrator with Licking Vibrating Egg
Multifunctional Vibrator Brings You Unlimited Climax
The vibrator has sucking, vibrating and licking functions. It is easy to operate and can be controlled by different buttons. It can be used at the same time or alone, so as to stimulate the clits, nipples, breasts, anus and other sensitive parts in all directions, bringing you unparalleled comfort.
Feature
🌹

Multifunctional Vibrator - The rose vibrator can stimulate the clitoris and nipples, Egg vibrator can stimulate the clitoris and anus. The leaves on the bullet massager are soft and delicate, bring you to enjoy the pleasure of tongue licking. 3 in 1 design combined visual beauty and physical comfort, bringing you to enjoy real sex feeling.

🌹

10 Powerful Modes - The vagina vibrator has 10 different sucking, licking and vibrating modes to meet the needs of different people. Click the button to choose the mode that suits you the best. Breast sucking, clitoris teasing, anus massaging all in one toy will make you reach climax quickly.

🌹

Unique & Elegant Rose Design - The vibrator consists of a rose-shaped suction and an egg-shaped vibration. The overall appearance is like a rose artwork, which eliminates the embarrassment caused by sex toys and protects your private life. The combination of romantic rose sucking and passionate egg vibrating will make your delicate skin feel passionate sex. This is the ideal vibrator.

🌹

Waterproof & Charging - This female vibrator has a USB magnetic charging port design, charging is for sure safe and effective. A charging cable is included, suitable for most USB devices. The rose stimulator is made waterproof and easy to clean and use.
The Messenger of Love
The 3 in 1 vaginal vibrator has a variety of ways to play, which can stimulate your clits, breasts, anus, and other sensitive parts. It can not only release the desires of singles, but also enhance the feelings between husband and wife, convey the essence of sex, and make your life happier.
10 Powerful Modes
The rose vibrator has 10 different sucking and vibration modes, from which you can feel the sex modes of different intensities. In different frequencies, you can feel a better sex life.
USB Magnetic Charging
The rose egg vibrator comes with a charging cable, which can last for 65 minutes after charging for 2 hours, bringing you unlimited sex fun.
100% Waterproof
The 100% waterproof design of this clitoral vibrator is easy to clean and use, adding more underwater entertainment to you, bringing you unlimited comfort, and being worthy of your trust and possession.
Exquisite Gifts for Lovers
The unique and elegant design of the massager can bring out a romantic atmosphere and give you a dreamlike feeling. At the same time, you can put it as a rose artwork at home, no one knows its true purpose, thus eliminating the embarrassment caused by sex toys. Or put it in a rose and give it to your lover. This is definitely a big surprise!
Portable Size 

 Payment Methods: PayPal, Credit Card Or Debit Card.
If you have a PayPal account, you can use paypal to pay directly.If you don't have a PayPal account, you can still pay with credit card or debit card through PayPal. PayPal accepts all types of credit card brands, like Visa, Mastercard, Discover and American Express.
Here are the payment steps:
1. Click "Complete order" button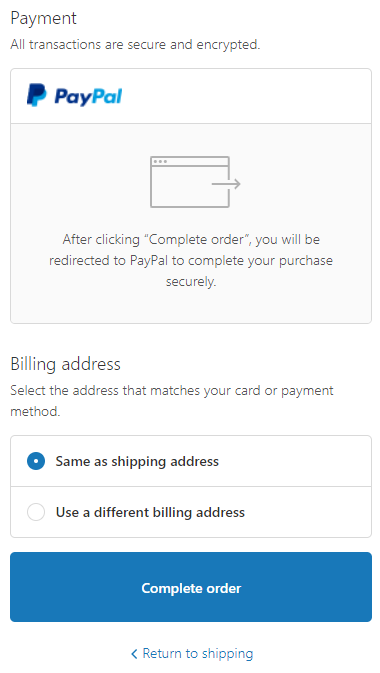 2. Click "Pay with Credit or Debit Card" button
3. Fill in the card number information
4. Click "Continue as Guest"
Shipping
Free Shipping Over $59
4 ~14 days fast delivery ( USA, Canada, Australia, The United Kingdom, France, Germany, Spain, Italy )
5 ~16 days delivery for other European countries
7~ 20 days delivery for the rest of the countries
100% discreet packaging (There would be a normal box outside our packaging.Neither company name nor product name would be seen on the box, So, you don't need to worry)
Due to the impact of the COVID-19, the shipping may be delayed. However,we will do our best efforts to deliver the package safely and quickly.If you have any questions during this period, please contact us at info@yosposs.com.
Returns & Warranty:
30-day no risk money-back guarantee
12 months warranty
MORE DETAILS >>